In an electrical system, a switch directs and interrupts electricity flow from one direction to the other. All electrical appliances work through switches. It can either turn on a device or off the electrical flow. There are various types of switches and sockets available in the market. It becomes indispensable to choose a perfect fit for your residence or commercial space.
Apart from the primary turn-on and off features, switches have distinctive features too. First, take a look at the most popular brand of switches and sockets. You must know them before buying one of them.
List of Different Types of Switches Models:
| | | |
| --- | --- | --- |
| Anchor | Legrand | Schneider Electric |
| Thea | Arteor | Unica Pure |
| Vision | Mylinc | ZENcelo |
| Europa | Myrius | AvatorOn |
| Ziva | Britzy | ULTI Impress |
| Roma | Axolute | Livia |
| Woods | Lyncus | Opale |
| Penta | | AvatarON |
Different types of models
Once you are acquainted with the brands, in the next step, you can move into the types of electrical switches and their importance:
Single pole switches: It refers to the basic on and off switches that are used to break the electric connection from any device. It can also be used to join two terminals. The other name of single pole switches is toggle switches, single pole electrical switch, these are the most common type of switches. It controls one fixture from a single location. It is effortless to operate and install.
Double pole switches: It controls the lights of the two single pole switches. It does not have an on/off position. It is typically used in staircases to access the fixture without any trouble. Even though these switches are easy to operate, a regular person cannot install them easily.
Three-way switches: As the name suggests, three-way switches are typically used for controlling the lights with two other switches. It doesn't have on/off position in contrast to single pole switches. The two switches connected with the three-way switches are mechanically operated. It is very complicated to install.
Four-way Switches: Four-way switch configurations are used to distribute lights with three or more switches. They are generally installed for events in large halls so that one can easily access the lighting fixtures. It is thus, crucial to comprehend how these switches are installed and replace.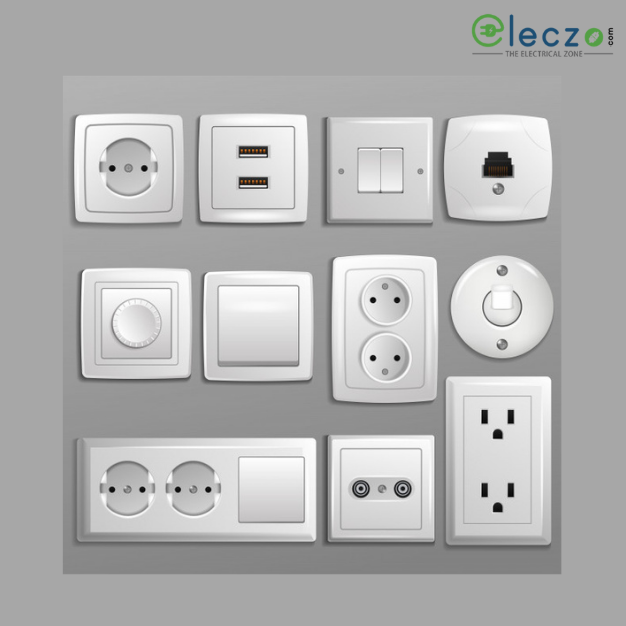 Multi-location switches: A multi-location switches build an interconnection between the electrical switches to control the circuit loads from a different location. They are used in large spaces and hallways where the safety of installation is guaranteed. It is indeed complicated to install.
Bell switches: these are necessary switches used in doorbells for personal and commercial use. When one pushes the switch, it gets attached to the current flow, and the bell rings. One can easily install bell switches.
These are modular switches to enhance the beauty of your home décor. Schneider switches are very stylish, compelling, and designed to complement the interior design.
To match with your interior design and securing smooth supply of electricity, Anchor and Legrand have introduced a variety range of modular switches namely:
Anchor Roma white 10Ax 2 way switch
Polycarbonate Modular anchor electrical switch
16 Amp plastic anchor Roma modular switch
Anchor Roma 16A 1 way modular switch
Anchor Penta 6A 1 way modular switches
White Legrand Britzy 20A 2 module double pole electrical switch
White and Magnesium Legrand arteor Switches
Legrand White Arteor one way switches
6a white Legrand Britzy modular switches
If you are up to buy electrical sockets, I am sure this blog will be beneficial. First of all, sockets allow the connection between clients and the server site end. It is the source of primary power supply. It might differ in voltage and current rating, shape, size, etc. typically, there are 2-pin, 3-pin, and 5-pin settings available in the market with 6A-25A electric rating.
Types of Sockets:
You are already aware of the top brands of sockets. Now take a look at the variety of socket sets and which of them you need to purchase.
Telephone Socket: The telephone socket, also called as main or master socket, where the phone cable enters your home. It is always recommended to connect the broadband router to a master socket.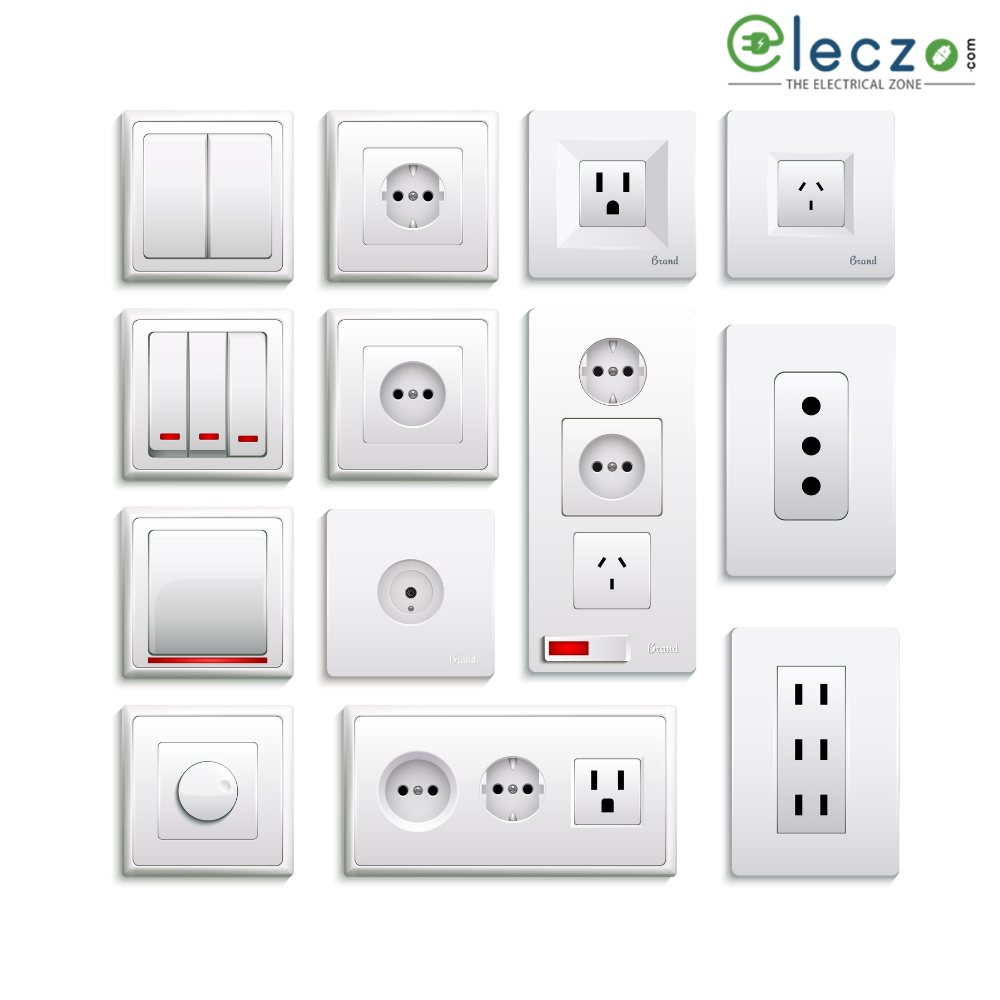 Data socket: Data socket is a single unified, end-user application programming interface. It is used to connect data from various sources like local files, web servers, and data items on OPC servers. A data Socket application locates the data location with a familiar network.
USB Socket: USB socket is ideal for charging portable devices like smartphones, tablets. With a USB socket with multiple USB connections, you can connect multiple devices simultaneously.
TV Socket: A TV socket is typically used to connect coaxial cables and active VHF/UHF roof antennas. It also comprises antenna signal amplifiers, CATV distribution, FM/DAB radio receiver. The female connecter of the TV sockets is mostly used.
2-pin, 3-pin, and 5-pin sockets: These are the most commonly used sockets for 2-pin, 3-pin, and 5-pin plugs. The primary purpose of these sockets to supply electrical appliances safely. As the name suggests, 2-pin, 3-pin, and 5-pin plug consists of two, three, and five pins respectively. Each pin needs to be correctly connected to the wires in the electrical cable.
Among the most popular brands in India, Anchor and Legrand have exclusive range of modular plate switches with 2-pin and 3-pin socket with 6-16 Amps current rating.
Backing Module
Dimmer: Dimmers are gadgets associated with a light apparatus and used to bring down the brilliance of light. These are accessible in single-shaft, three-path just as multi-location forms. Dimmers are not challenging to work and help in saving energy and expanding the bulb life.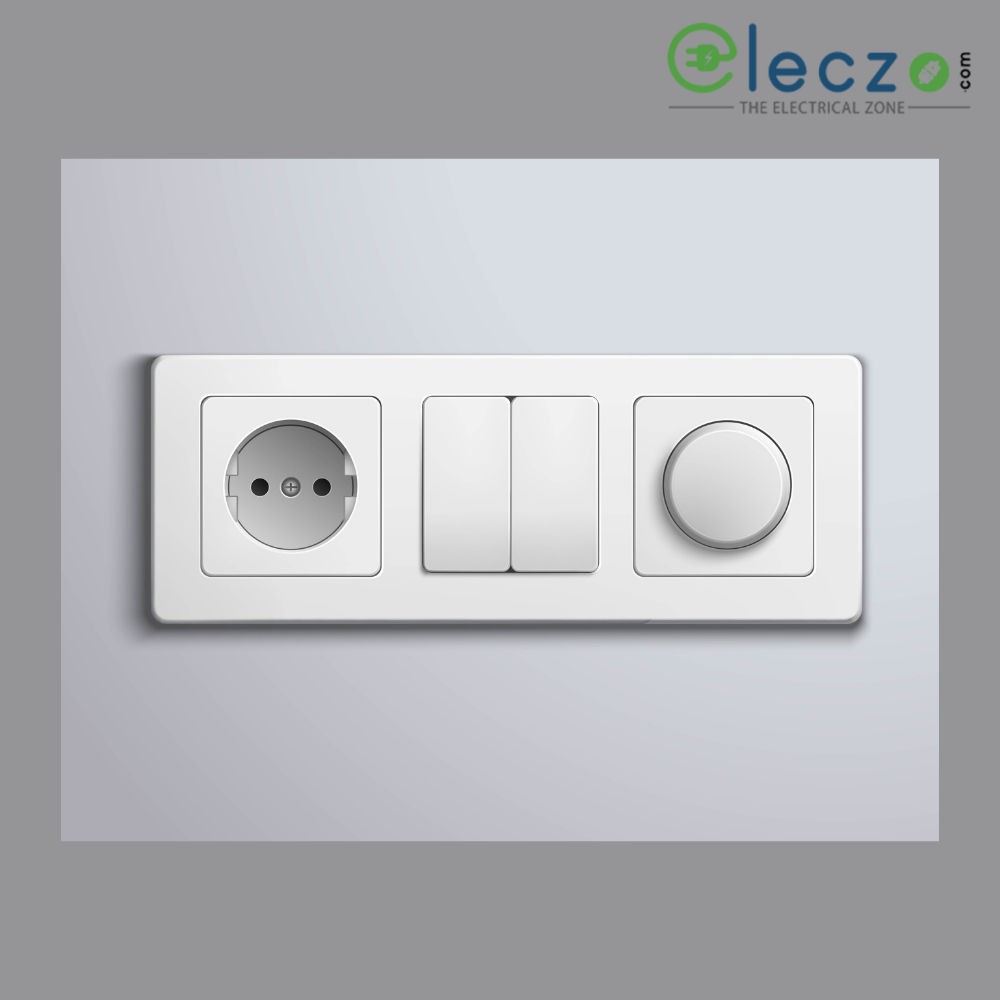 Fan Regulator: A fan controller is a vital part that serves to increment or reduction the speed of your fan as indicated by your necessities. For the most part, fan controllers are accessible in 4-step, and 5-venture speed choices and are not difficult to work, just as simple to introduce.
Engine Starter Switch: Manual engine starters, otherwise called engine security circuit breakers (MPCBs) or manual engine defenders (MMPs), are electromechanical assurance gadgets for the primary circuit. They are fundamentally used to turn engines ON/OFF physically and to give fuseless assurance against short out, over-burden, and stage disappointments. According to the heap prerequisites, these engine starter switches are accessible in the current appraisals of 20A, 25A, and 32A separately. These are not difficult to utilize, introduce and supplant.
Force Unit: They are a blend of attachment and a switch and are frequently utilised in substantial burden electrical types of gear. These are accessible in various current appraisals of 20A, 25A, and 32A individually. Force units are not difficult to introduce and work.
To conclude:
Now, it's time to purchase the required switches and sockets. When the safety of your home or workplace is concerned, it is ideal to go with the top brands. Why are you waiting for, select the best switches and sockets for your home today and make your home look beautiful. Apart from switches and sockets you want to know more information about other electrical items which you want to buy but no idea of what exact items are required? Dont worry here is the Top 10 Electrical Items For Home To Consider While Shopping Read this article and get a better idea.