Different types of fans for home are essential electrical appliances and come in several shapes, sizes, and styles. Known for its primary function of cooling and dissipating heat, the existence of fans is dated back to 3000 BC. The first different types of fans for home were introduced in Europe, folding fans which were considered a status symbol and mainly used by royals or nobles.
The two most common types of electrical fans used in the modern world are ceiling fans and table fans. However, many different types of fans are used in houses and others used in industries, factories, or warehouses.
Some of the most commonly used 5 different types of fans for homes and industries are:
Ceiling Fans For Home
Originating in the Indian subcontinent in 500 BC, ceiling fans were initially powered manually with the help of strings. These fans typically consist of hub-mounted rotating blades that evenly spread air throughout the room. Since ceiling fans are suspended from the ceiling, they are usually placed in the middle of the room to spread air in the entire space of the room evenly.
In 1882, the electrically powered ceiling fan was invented with the monitor unit that helped them run on electricity. In terms of usage, a ceiling fan can either be used to heat or cool the room with its reverse-mechanism of the air direction.
Buy ceiling fans online and get the best prices for yourself. Ceiling fans come in different sizes with variations in the number of blades attached with a minimum of three blades and a maximum of five.
The next types of fans for home in line is table fans. Table fans can be placed on any concrete and firm base like the table or the floor and are incredibly flexible in usage. They are compact in size and incredibly portable, making them a convenient choice for a cool air source in a room.
Table fans are also electric and are preferred by many for their usage flexibility and durability.
One of the most exciting advantages of a table fan is its in-built gadget control. With developments in the electrical appliance, table fans offer increased convenience and are extremely easy to use. In the modern world, many companies are building table fans with built-in remote control facilities that can help a user regulate the direction and speed of the fan easily as per requirement.
Additionally, table fans provide a wider air spread area and distribute air equally, horizontally providing convenient air ventilation.
Wall Fans
Wall-mounted fans were invented when floor space became an issue in small rooms and low or high ceiling rooms. These fans are designed to be compact and do not consist of proper wiring.
Wall-Mounted Fans are ideal for office spaces, party halls, warehouses, and auditoriums. They have a significantly different operational method compared to other fans. They push the air throughout the area they are installed and do not provide an even spread. Eleczo offers a wide range of stylish wall fans online shopping in various sizes, colors, designs, and much more.
The top benefits of installing a wall-mounted fan are:
They save a lot of floor space.
They are an excellent way for instantly evaporative air movement.
They are a great way to circulate air conditioning.
The best features of modern wall mounted fans are:
Remote control
Oscillation
Compact size
Light-weight and durability
Multiple speed settings.
Pedestal Fans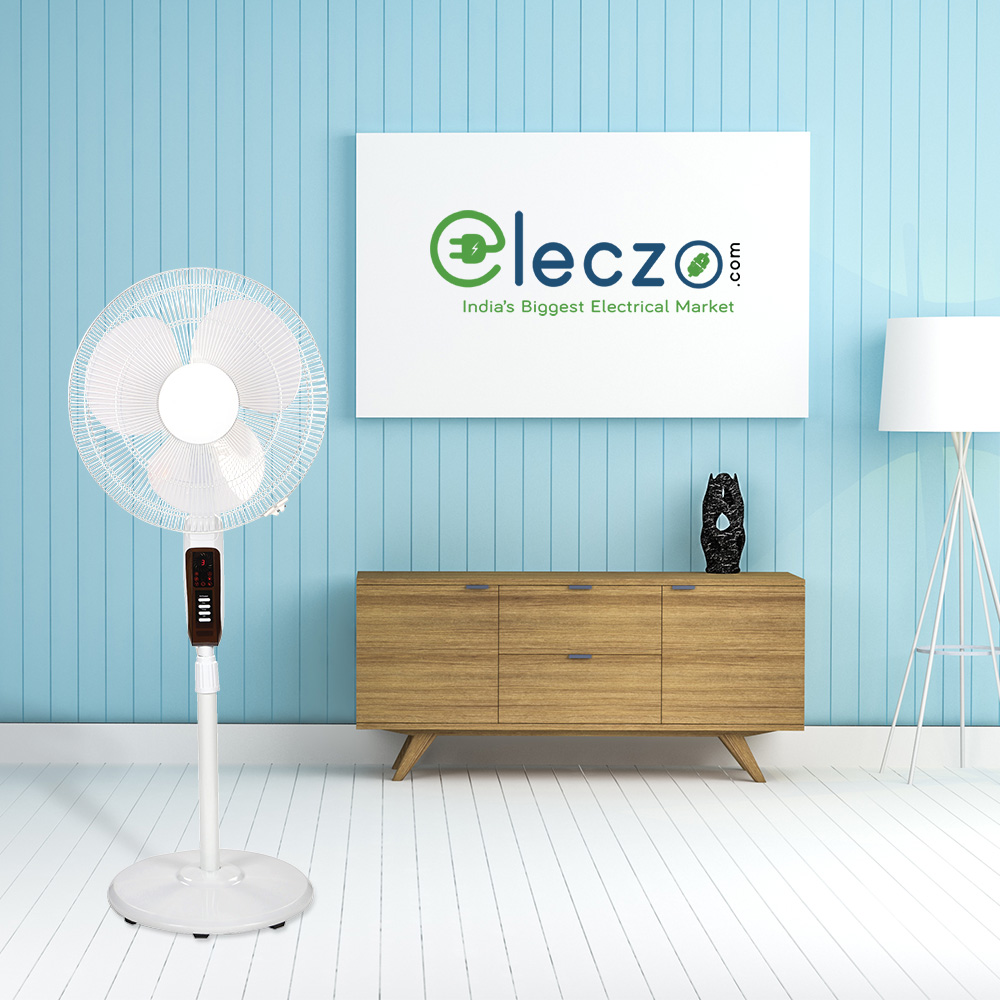 Pedestal fans are best known for their powerful cooling abilities and versatility. You can describe a pedestal fan as an electric, oscillating fan with a stand that can be adjusted according to your requirements.
Pedestal fans are also called stand-fans and are incredibly tall. They have a built-in oscillating function that helps maximize the range of air distribution and transfer. Advantageously, pedestal fans are light-weight and portable and can be turned on by merely plugging the switch into any socket.
Modern pedestal fans come with remote control functions to control speed and direction and are extremely multi-functional with various speed and rotation settings.
Exhaust fans are used for ventilation and are found mainly in bathrooms or industrial factories. These fans also help purify the air and prevent excessive heat from building up in a closed area.
Electrically operated, exhaust fans are similar to all other fans. The only difference between an exhaust fan and other fans is that it pushes out air from a room or a building while other fans spread air in a room.
The blades of an exhaust fan rotate at very high speeds and pull the hot air out of the rooms or bathrooms outwards. In turn, the room starts to fill up with cool and fresh air when the exhaust fan is running. Modern exhaust fans are fitted with thermostats to help regulate room temperatures by speeding up or slowing down when needed.
Conclusion:

There are several factors to be considered before purchasing fans for your home. The highest efficiency is the main focus while purchasing a fan. Hence, the above-mentioned fans are different types of fans for home which are the best choice to keep you cool in summer. However, our main focus is to provide the best information about types of fans and their usage, styles, guides, best-selling fans, and so on. By reading this blog, We hope you have got an idea of how to choose the best fans for your home.
Apart from choosing the best fans, it is also important to choose other top 10 electrical items for homes to consider while shopping.
At Eleczo, we provide the best electrical products which can suits perfectly for your organization and household purposes.
We are India's best and most trusted online electrical portal in Bangalore. You can find all sorts of fans in our website. For more details and best offers you can reach us at support@eleczo.com