There is no denying fact that ceiling fans are the most affordable cooling solution for people. So, it is obvious that you need to know more about ceiling fans so that you can get the best one for your home. Are you confused about how to choose the Best Ceiling Fans for your home? Then this is not surprising, choosing the right ceiling fan is not an easy task. It is because apart from the color and style, you need to consider several factors while choosing Ceiling Fans For your Home.
If you are looking for the best ceiling fans in India, there are a large number of reputed brands to help you to choose the one which suits your requirement the best. But before you deep dive into it, let's talk about some striking features of some latest smart ceiling fans that will amaze you. For example, If you opt for the latest smart Ceiling Fans with a Remote, you will get several facilities like speed control, timer mode, LED speed indicators, and much more. Again you can opt for Ceiling Fans with Lights with the advantage of smart cooling relief.
Here is the list of best Ceiling Fans In India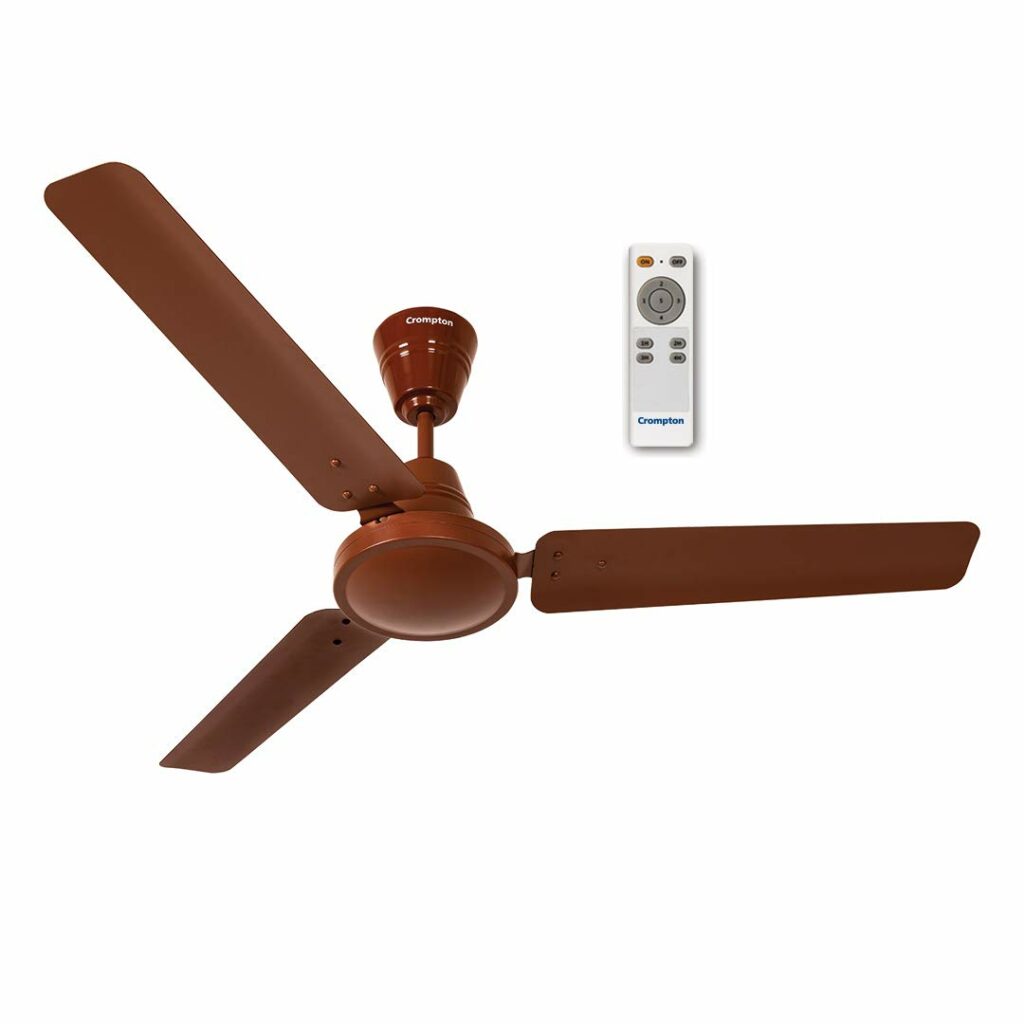 See Discount Price
Buy at 30% OFF/-

₹ 3099.00
Crompton Energion High-Speed BLDC Ceiling Fan
Crompton Energion hs ceiling fans are a popular choice among most people in India. The main reason is that it is powered by Activ BLDC technology which makes it more energy-efficient.
It is obvious that with Crompton ceiling fan you can save more than 50% on your electricity bill. This is a smart model with various smart technologies including Point Anywhere Remote, Multi-Pairing, Sleep-Timer Enabled, and Entelligent Memory Function and also available in three attractive colors black, gloss white, and toast brown. It is considered one of the entry-level models in the BLDC fan segment. Now let's look at the specifications of the Crompton BLDC Ceiling Fan
Now let's look at the specifications of the Crompton BLDC Ceiling Fan:
It is an energy-efficient or low energy consuming

It ensures monthly returns with its energy savings

It is powered by an Active BLDC motor which makes it power-consuming even in a wide voltage ranging from 90V-300V

It delivers superior performance

It is a high-speed ceiling fan

It is featured with the latest technologies.

It deals with a high power factor of 0.98
Energy –Efficient

370 rmp

0.98 power factor

90 v to 300 v voltage range

Five-years warranty

Five-star rating

Single remote for multiple fans
Costl

Simple look

Low air delivery by 220 CMM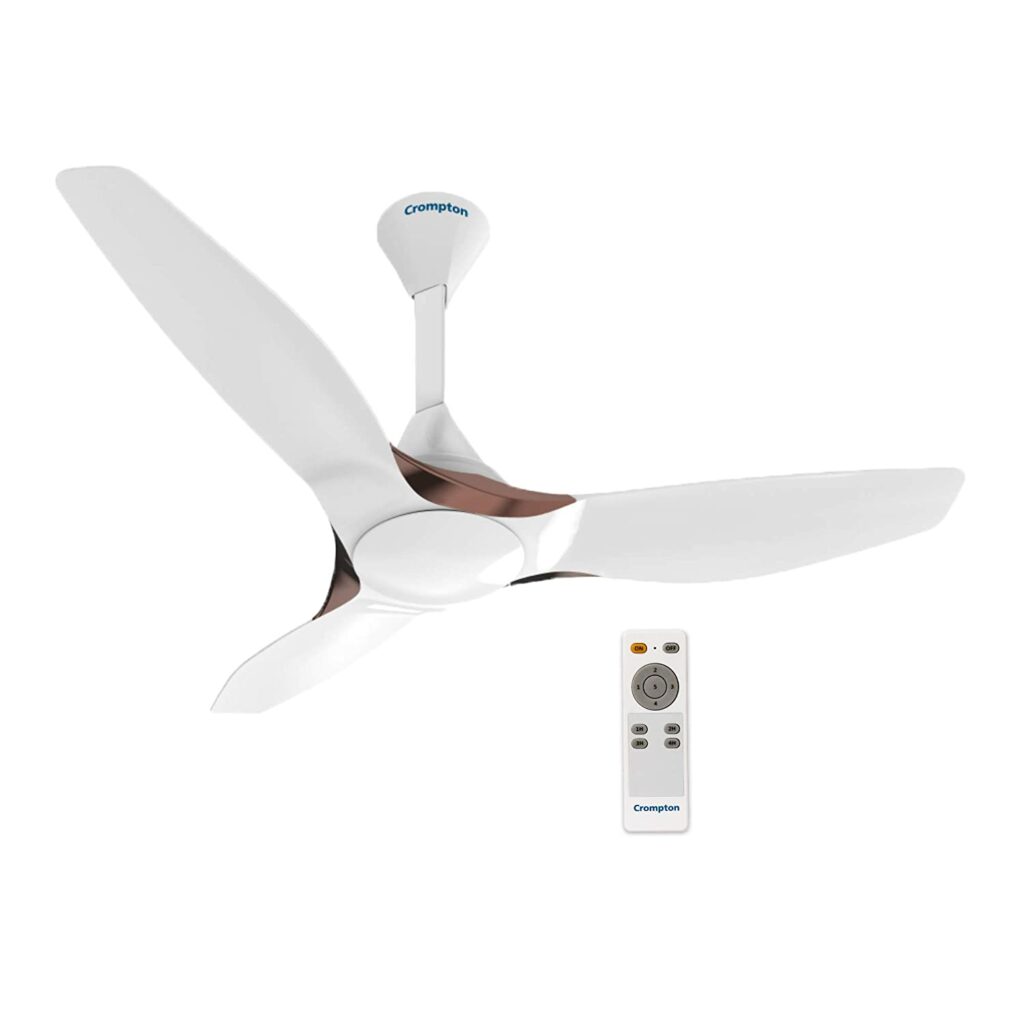 See Discount Price
Buy at 31% OFF/-

₹ 6758.00
Crompton Silent Pro Enso 1225 mm Ceiling Fan
Crompton Silent Pro is designed in such a way so that you can get the best comfort with zero noise so that you can experience a quiet home.
As the name suggests, Crompton Silent Pro offers two times more silence and superior comfort with high air delivery. It is one of the best ActivBLAD remote control ceiling fans with excluding color options including silk white, the most demanding one.
In addition, the fan comes with a remote function and other advanced functions and technologies including:
Superior comfort with 240 CMM air delivery

Energy-efficient

High power factor of 0.98

2X More silent than conventional fans

Smartest working voltage range between 90 v-300 v

Point anywhere smart remote with RF Technology which can be operated from a different angle.

Multi pairing function

 The motor featured with additional safety features such as safety wires that prevent the fan from falling

It is featured with intelligent memory that will offer you comfort in the best possible way.

It has the fluidic seamless design of the blades

It is designed in such a way so that it works efficiently in those locations where voltage fluctuation occurred
Silent series fan

Operates on 42 W Bldc motor

Saves 50% electricity consumption

Better air delivery

Smart remote control with multi pairing technology
The service center is not available

Not dust resistant

Costly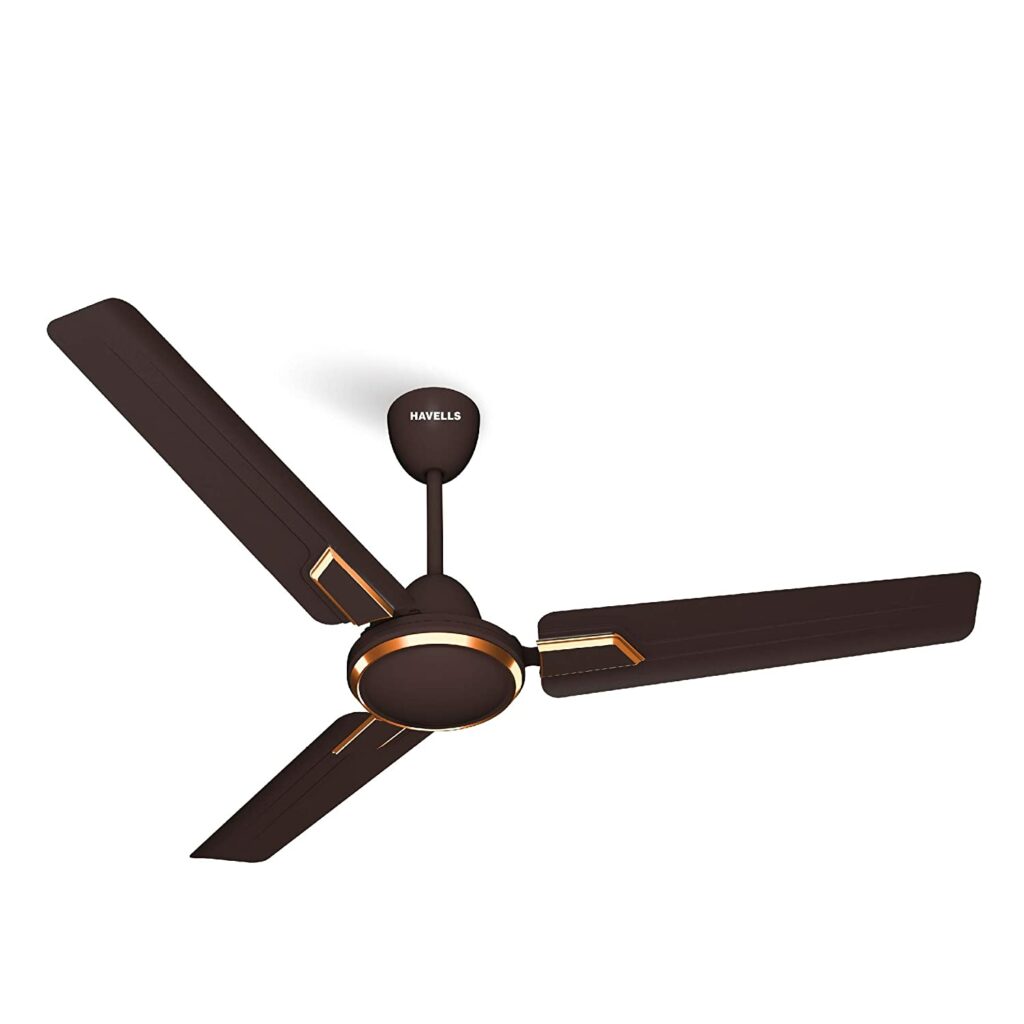 See Discount Price
Buy at 35% OFF/-

₹2382.25
Havells Andria High-Speed Decorative Ceiling Fan 1200 mm
If you are looking for a fantastic ceiling fan with high air delivery and functionalities without compromising the look, Havells Andria is the best option for you.